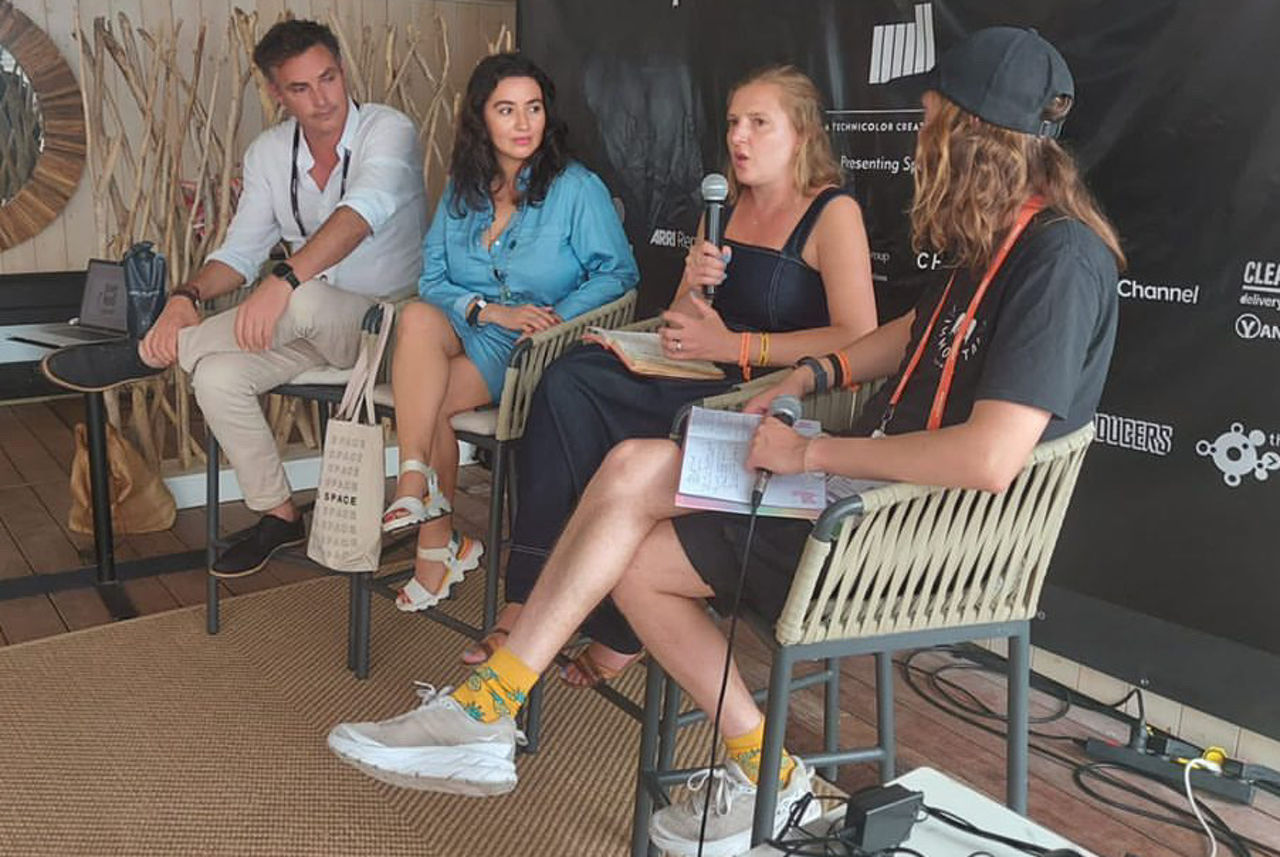 The number one global industry event, Cannes Lions International Festival of Creativity, returned to the French Riviera last week IRL after a three year absence and MADAM was naturally there. It is an event that we place great emphasis on and attend every year. Why is it so important? Having an international hive of minds is inspiring, motivating, educating, collaborative and cohesive.
This year, our founders were integral in creating opportunities to discuss both sustainability and diversity during the Cannes week. Our first panel: 'For Offset's Sake- We're in This Together' brought Carly Stone together with Michael Kalinski of Green the Bid, and Gloria Pitagosrky of Heard City chaired by LBB editor Alex Reeves. The panel discussed sustainable industry practice with practical takeaways of how to actively make differences within production, around crew education and considerations at a wider level. Michael Kaliski discussed how a carbon budget can be created alongside the traditional production budget and how, when offsetting, the figure to consider is €100 per tonne - many use a much lower figure. The panel also discussed how shared commitment to sustainability practices with clients can gradually transform into a more equal distribution of responsibility between production, agencies and brands. MADAM Co-Founder, Carly, highlighted the importance of sharing knowledge and letting go of the fear of not being educated enough to make a meaningful impact by replacing it with a commitment to gradual small steps in the right direction.
Our second panel took place at The Female Quotient's Equality Lounge. Invited to talk, the founders of OWNED, of which MADAM Co-Founder Pippa Bhatt is a board member, took to the stage to discuss The Value of Having Women-Owned Partners And How to Help Them Thrive. What are the benefits of investing into a women-owned company resource? Is representation being taken further than the workplace and down the line of production when considering suppliers? How can brands/agencies be a part of creating systemic change? Women-owned companies are born out of diversity and the need to have a flexible environment to align with the many roles women have in life. The decisions women make in running their companies come from a place of flexibility, vulnerability, empathy, long-term thinking & inclusiveness - all of which are considered to be leadership traits and identified as 'female values'. It's well known that research shows society is better off when women are financially stable and gender equity is reached. Hiring women, and putting money in the pockets of women brings the opportunity to create real systemic change and OWNED's remit is to bring parity to the supply chain process. OWNED will be launching a certification where eligibility is 25% ownership and that women are in a leadership position, which is more inclusive than the current certification seen in the US, for example, where women are required to have 51% ownership. Women are not legally equal in the USA, it is harder for them to rise to positions of ownership and by opening up the eligibility criteria allows for more women to thrive and for companies, brands, agencies to add to their diversity agenda through the pipeline and be part of systemic change.
What about perspective? The global population is 49.6% female. Women make 80% of buying decisions. Perspective as women with the female gaze of the lived experience is essential. The empathy and understanding that comes from that plays an important part in the creative process, being able to call out what isn't right from a real place.
Whilst the discussions moved from panel and stage to conversations over lunch, drinks and dinner, it was clear that there is much to still do but progress has been made. Both the diversity and sustainability agenda were present throughout the festival and active organisations such as Green The Bid, AdGreen, Ad Net Zero, Group Black & The Female Quotient continue to bring awareness.
Coming together is the leading reason why MADAM chooses to travel to Cannes. The international community is present and the Production Service Network breakfast is one of the highlights for us. It brings our global network of partners together to re-connect and, for some, to meet for the first time as new partners joined the association through the pandemic.
Finally, after so long apart, the wider international advertising community was together in force and has survived the tumultuous pandemic years. Fundamentally, what came from this year's Lions is that human interaction is everything and returning to this physical space filled depleted wells and provided motivation to thrive.